Sound of My Voice
Marling is as mesmerizing and intoxicating, but characterized in a toxic fashion. Slow and personal with some subtle side notes that keeps the tension real. Not for everyone. Sticks with you a little. 6/10
The East
Not quite as expected but delivered tense drama and plot uncertainties throughout. Super cast and Marling was captivating as usual. Something didn't quite hang right for me - which took a few marks off. Undecided, but a solid 7 for making me think.
Live Free or Die Hard
I did like the original Die Hard but lost track of all the sequels over the years. But for laughs I recorded this 2007 version the other night from TV (hi-def old movie channel).
Oh, and what fun it was. Willis did his typical action hero funny line thing and the plot was almost a clever up-to-date cyber-terrorism armageddon. Being in the IT security industry got a little in the way of the plot realities, and of course there were some super silly stunts, but it was still of lot of fun. Massive doses of blow up action, creative set scenarios, McLean humour and some likable characters, incl. a nice bit by Kevin Smith. Very entertaining if you can ignore some of the massive exaggerations. 7/10
This is 40
Too much going on to put concise summary together. I'm no prude, but I thought the language was a little over the top, especially from the 13 year old daughter. Cast were excellent with great supporting performances by the granddads; I thought Mann stole the show except in the scene with McCarthy. More serious turns than I expected, but highly entertaining all around. 7/10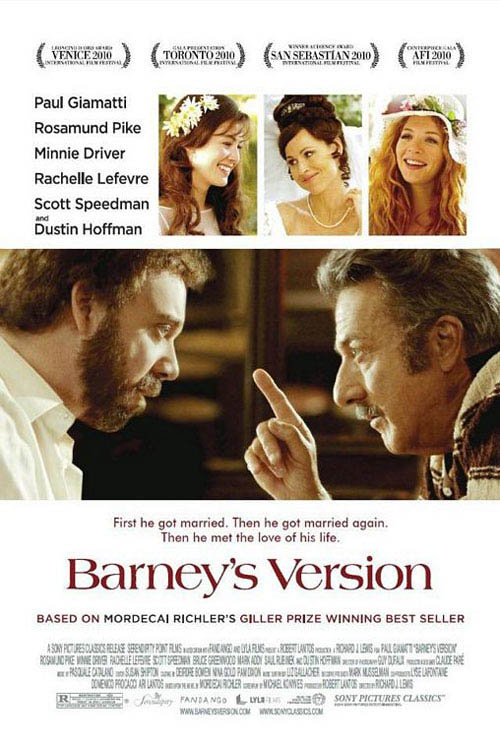 Barney's Version
Loved it. Although I must say it took a little to get going (like the book I never finished and reinforced by the fact this was the second time I'd started the watching it). Shakespearean in the most delightful tragic way. Could have been a Woody Allen piece too (mixing the naughtiness of Crimes with the whimsy and inevitable sadness of Annie. Perfectly cast with great acting all around. And you thought they drank a lot on Mad Men. Cohen was the perfect soundtrack - I'm not a big fan, but seemed to fit wonderfully. 8/10